Well I guess it wouldn't be a golf course blog if the US Masters didn't get a mention. Even though I am much more excited about spending 3 days at Barnbougle and The Lost Farm down in Tassie this week. Let's hope the weather holds.....and my body!!
But it is in Augusta Georgia that all the golfing world concentrates at this time of year. A couple of really interesting links below with the excellent flyover in the first one that can actually give some appreciation of the contour changes on the course which always amazes first time visitors. It also give you a peek at the admission prices!! The other astonishing thing is the number of trees that have been planted when you compare it to the old photo of the course below. At least they have been wise and not planted too many trees close to greens.
http://sports.espn.go.com/golf/masters11/news/story?id=6289311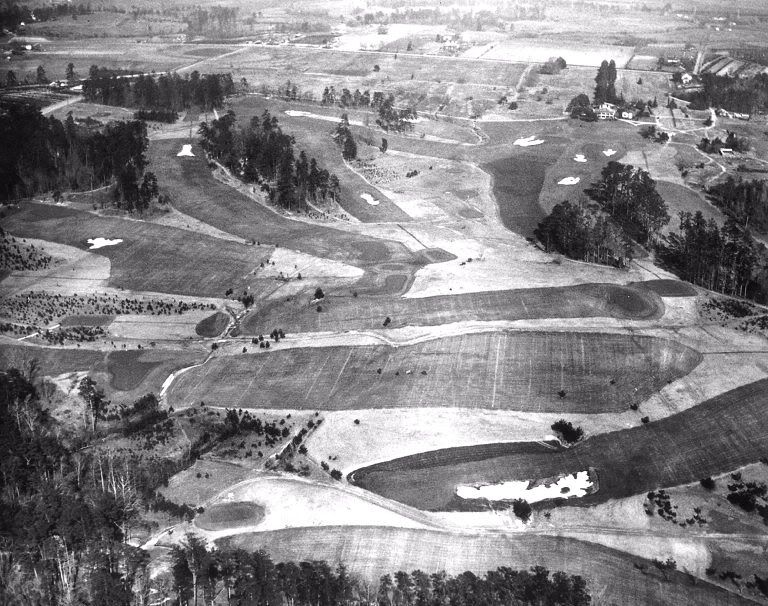 ANGC as it once was.

This link gives a fascinating look at the changes and the reasons behind them over the years.

http://www.golfdigest.com/golf-courses/georgia/augusta-changes
And if you want to play in The Masters then these are the qualifying criteria;
1. Masters Tournament Champions (Lifetime)
2. US Open Champions (Honorary, non-competing after 5 years)
3. British Open Champions (Honorary, non-competing after 5 years)
4. PGA Champions (Honorary, non-competing after 5 years)
5. Winners of The Players Championship (Three years)
6. Current US Amateur Champion (6-A) (Honorary, non-competing after 1 year) and the runner-up (6-B ) to the current US Amateur Champion
7. Current British Amateur Champion (Honorary, non-competing after 1 year)
8. Current Asian Amateur Champion
9. Current US Amateur Public Links Champion
10. Current US Mid-Amateur Champion
11. The first 16 players, including ties, in the previous year's Masters Tournament
12. The first 8 players, including ties, in the previous year's US Open Championship
13. The first 4 players, including ties, in the previous year's British Open Championship
14. The first 4 players, including ties, in the previous year's PGA Championship
15. The 30 leaders on the Final Official PGA Tour Money List for the previous calendar year
16. Winners of PGA Tour events that award a full-point allocation for the season-ending Tour Championship, from previous Masters to current Masters
17. Those qualifying for the previous year's season-ending Tour Championship
18. The 50 leaders on the Final Official World Golf Ranking for the previous calendar year
19. The 50 leaders on the Official World Golf Ranking published during the week prior to the current Masters